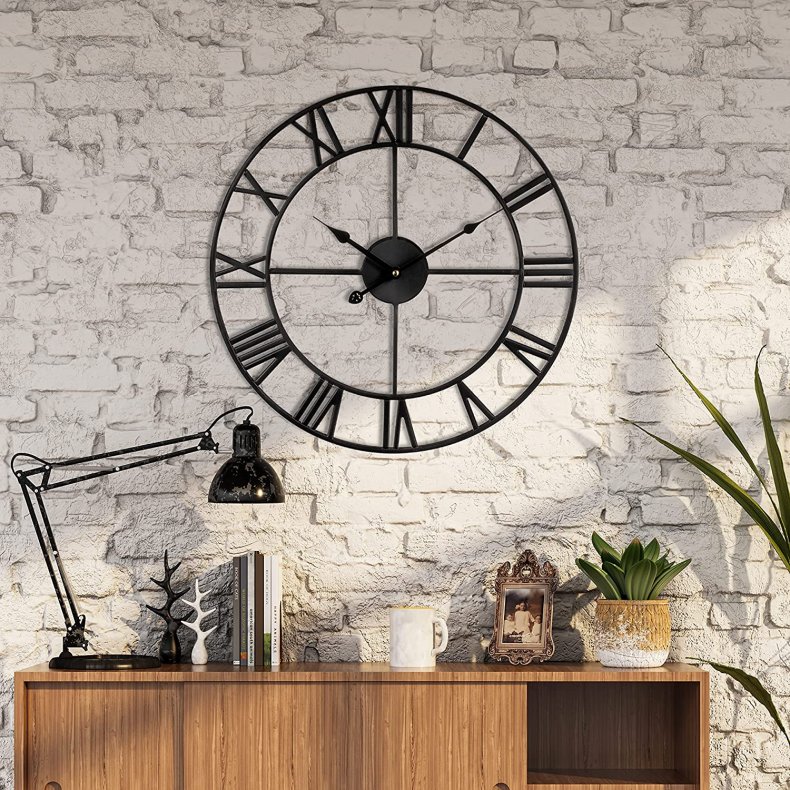 17 Furniture Pieces That Will Instantly Upgrade Your Living Room
As fall approaches, you may have plans underway for family and friends to gather at your home for the holidays. Magazines, newspapers, blogs and TV shows can give you plenty of inspiration to freshen your living room decor. The problem is how to get the most style for your hard-earned dollar.
To make your shopping easier, we selected 17 pieces of the most highly rated, transformative pieces on Amazon. Use these as starting points to add splashes of style that update your living room. As always, the prices listed may fluctuate over time.
Oversize Retro Roman Numeral Wall Clock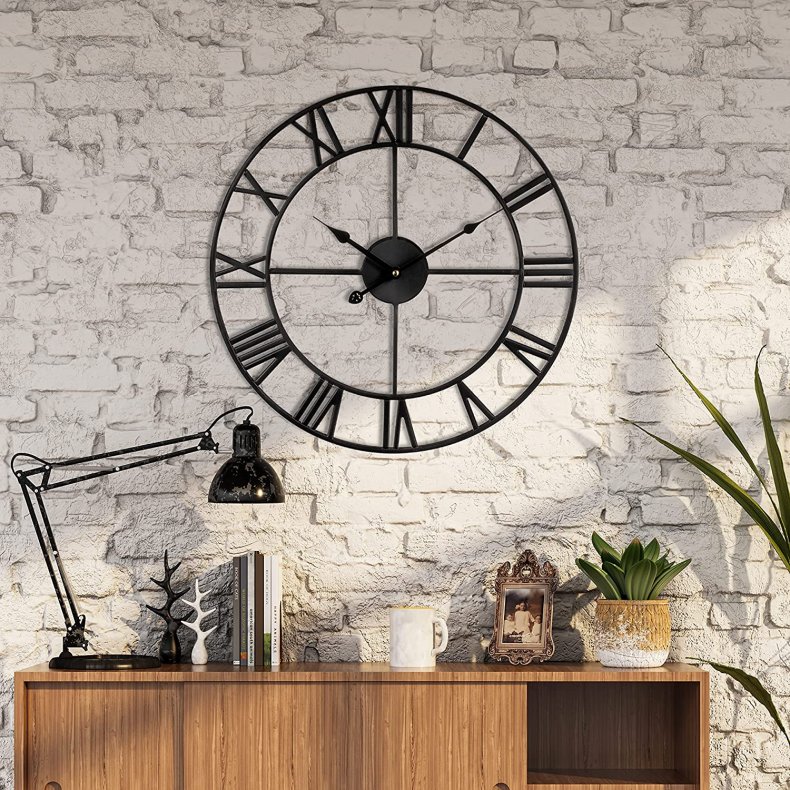 This Oversize Retro Roman Numeral Wall Clock by 1st Owned s not only functional but eye-catching. It's crafted of black iron and styled with gold and silver, so it stands out against almost any background. It's powered by one AA carbon battery and is easy to assemble and hang. Plus, the mechanism is quiet so you won't hear loud ticking. You can choose the size that works for you: small (16 inches diameter), medium (18.5 inches diameter), and large (24 inches diameter). One Amazon reviewer wrote, "I've been on the hunt for a clock for months now…. I personally think rod iron really completes the room. It's heavy but lightweight at the same time making it look great but easy to hang."
Buy at Amazon starting at $49.99.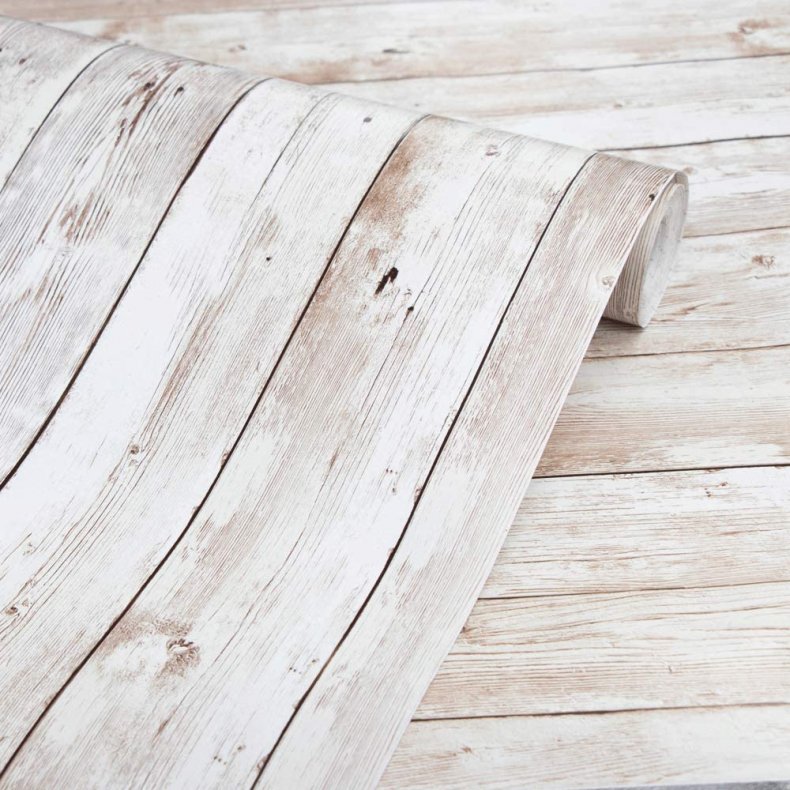 Wood is expensive and in short supply, but you can jazz up your living room for a fraction of the cost with this wood-panel-like peel-and-stick wallpaper by Abyssaly. This Self-Adhesive Removable Wallpaper measures 17.71 inches by 118 inches and the width of each "board" is 2.4 inches. Other sizes are also available. You can peel the backing off the wallpaper, turn the self-adhesive side toward the wall and stick it on. Then rub the wallpaper so it is completely flat. To remove, just peel it off. "I don't usually write reviews, but I loved this wallpaper!" wrote one Amazon reviewer. "This is after a week and it's still sticking great. My family and neighbors love it. Great price as well."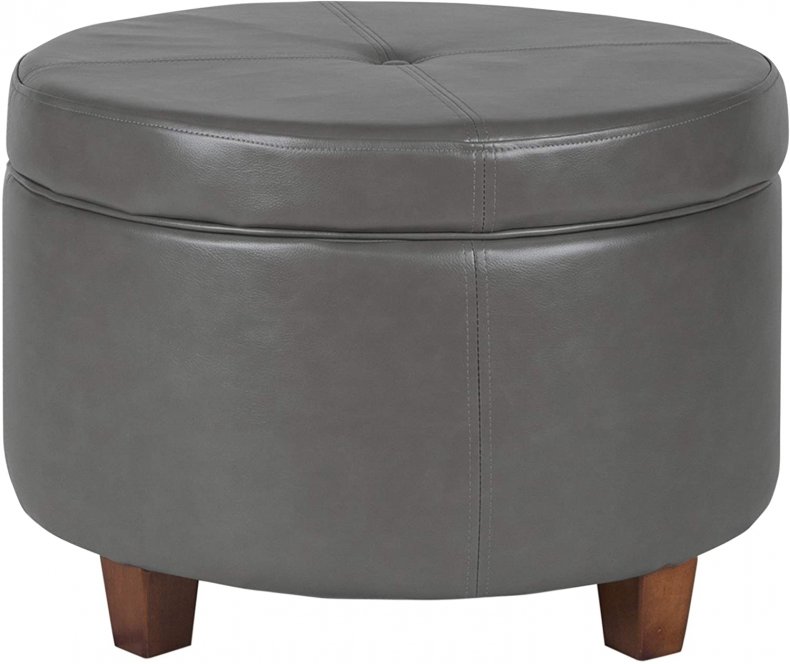 You know how you occasionally need a spare table to set down a book, newspaper or a guest's glass? The Leatherette Storage Ottoman With Lid by HomePop provides that via a lift-off lid. The 19-pound ottoman and accompanying lid are covered with polyurethane, which makes the piece perfect for an attractive footrest or table. Load it up with books or flip the lid over to use it as a solid wood tray. The ottoman measures 17 inches by 24 inches by 24 inches and is available in eight colors. "This ottoman is perfect in every way. Large but not too big," wrote one Amazon reviewer. "I would very highly recommend buying it."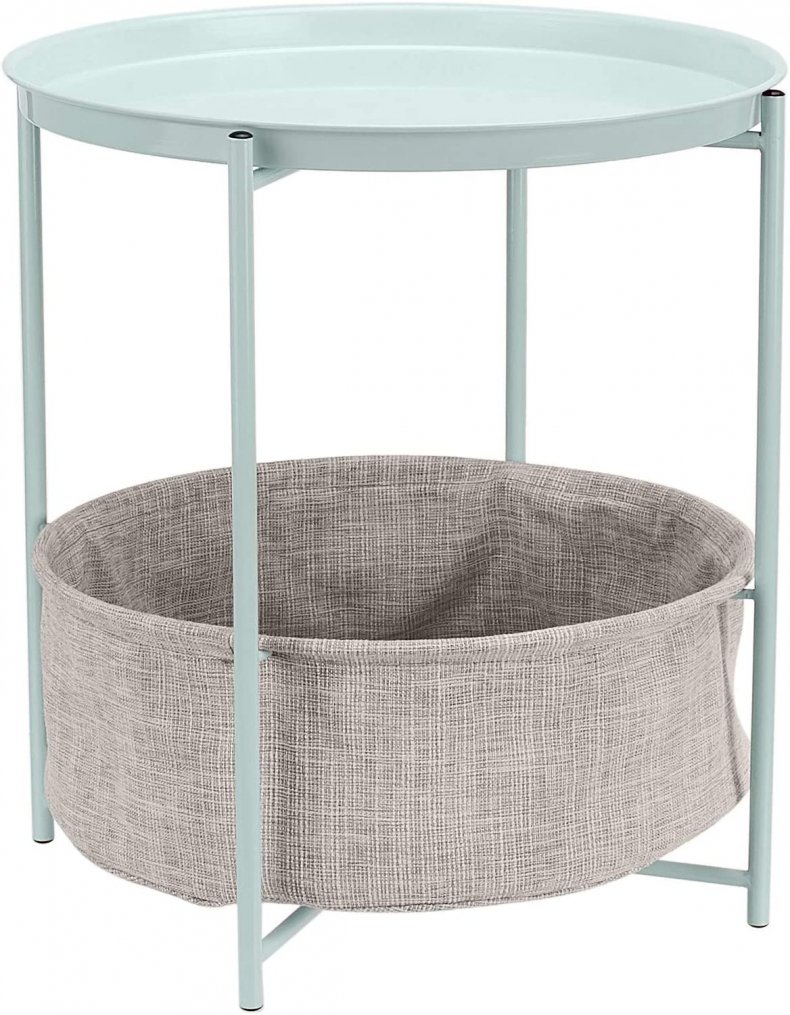 Even the most conservative living room decor may benefit from a splash of color from this Round Storage End Table from Amazon Basics. It's made of a circular metal tray table, perfect for beverages, plants or other items, with a fabric storage bin below. The metal frame has a four-point base painted in your choice of four colors. The table is 18 inches by 18 inches by 18.9 inches and is easy to assemble. "This fits the bill," wrote one Amazon reviewer. "I could easily disassemble and fold it up and put it away if I needed to or just pick it up and put it in a corner when not in use. I love its functionality and the basket!"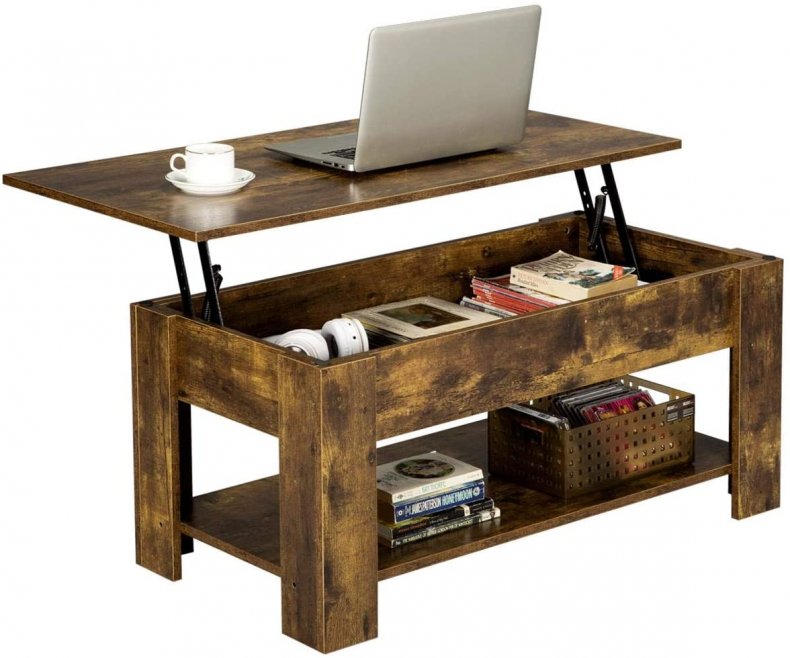 Coffee tables are great until you need to lean over one to work on your computer. This Rustic Lift Top Coffee Table With Storage Space from Yaheetech has a hidden heavy-duty metal lift mechanism that allows you to raise the tabletop. Static dimensions of this composite wood table are 38.6 inches by 19.7 inches by 16.3 inches. When opened it measures 38.6 inches by 26.8 inches by 21.4 inches. There's even a hidden storage compartment measuring 33.9 inches by 15.4 by 4 inches beneath the top. The table can hold up to 77 pounds, so it's a perfect spot to store your work papers, laptop, mobile phones or other items. Wrote one Amazon reviewer, "It's been over a year since we got this coffee table and we still love it! It gets heavy use as our dining table, footrest, and school desk…. 100% recommend!!!"

Don't be fooled by the low price of this Multicolor Soft Light LED Floor Lamp by Leonc. You can control it with a remote to select colors that create just the right mood. It has a textured exterior and metal frame that are simple enough to fit into any decor. Turn it on with the remote and then mix and match the RGB colors—red, green, and blue—to create an array of color combinations. The lamp's four steel feet ensure it won't topple, even when you use the on-off pedal switch. "Can you say ambiance? Wow," wrote one Amazon reviewer. "We bought two and they make our house look fabulous day and night."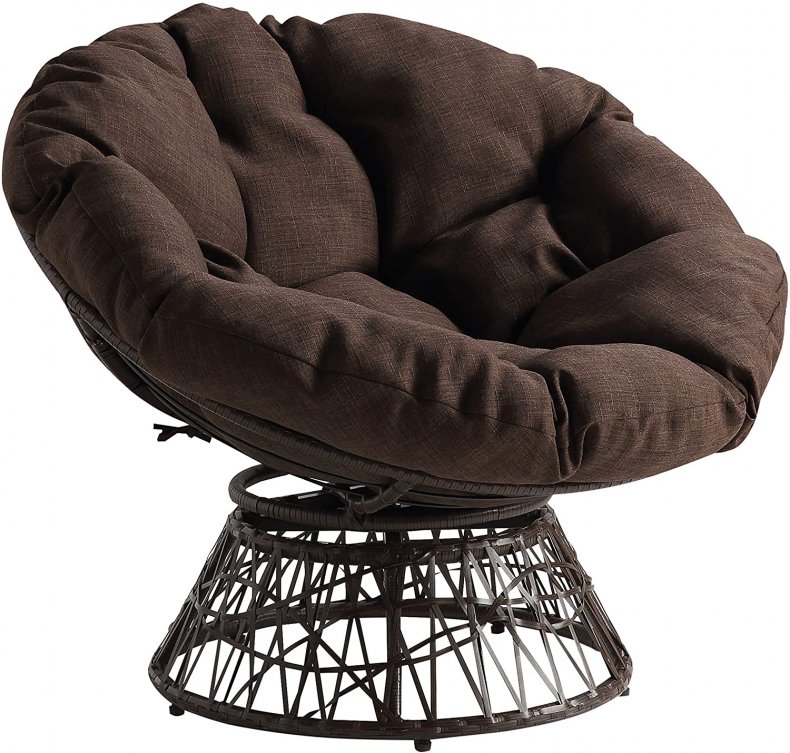 You don't need to buy expensive art or decor to upgrade your living room instantly. This Round Wicker Papasan Chair by OSP Home Furnishings comes with a Dacron-filled cushion in your choice of 17 colors. The chair adds a boho look that brings a splash of fun to any decor. Sink into the oversize cushion to nest or swivel 360 degrees. "Absolutely love this chair! The cushion is very comfortable–great for sinking in to read, watch TV, play on the Wii or even nap if you are shorter like me," wrote one Amazon reviewer.
Buy it at Amazon for $183.99.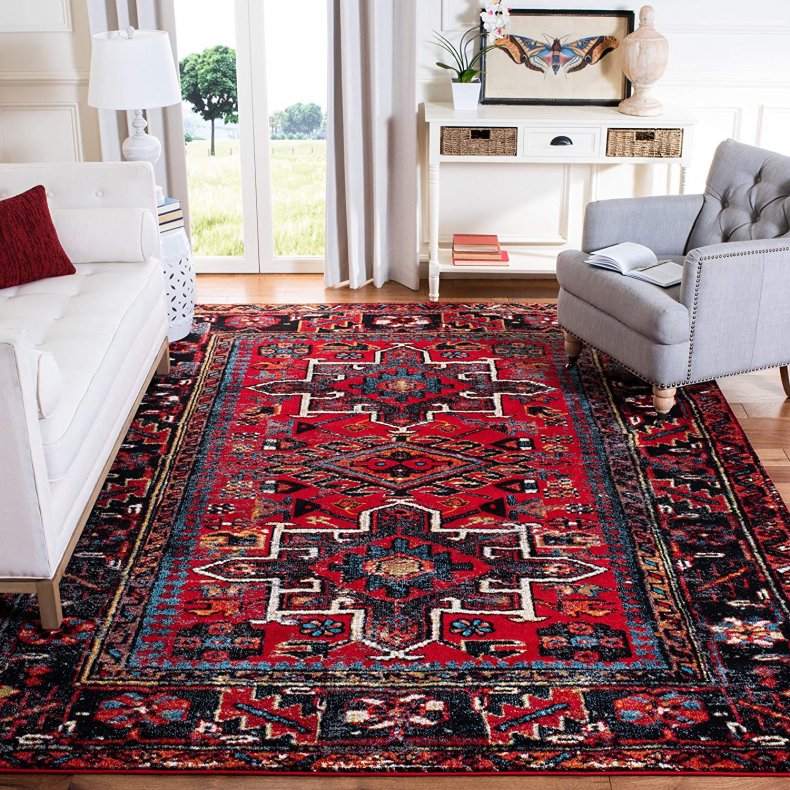 This richly colored Persian Non-Shedding Living Room Area Rug by Safavieh adds a wow factor to your living room. The stain-resistant, nonshedding rug is machine woven with synthetic, durable fibers. The vibrant design on this 5 foot 3 inch by 7 foot 6 inch rectangle only needs vacuuming and gentle blotting of stains to keep it looking great. "Upgrade your rug to this one," wrote one enthusiastic Amazon reviewer. "I hate the word plush, but this thing is plush. And the colors. Oh, don't even get me started. They are vibrant and the pattern is very crisp."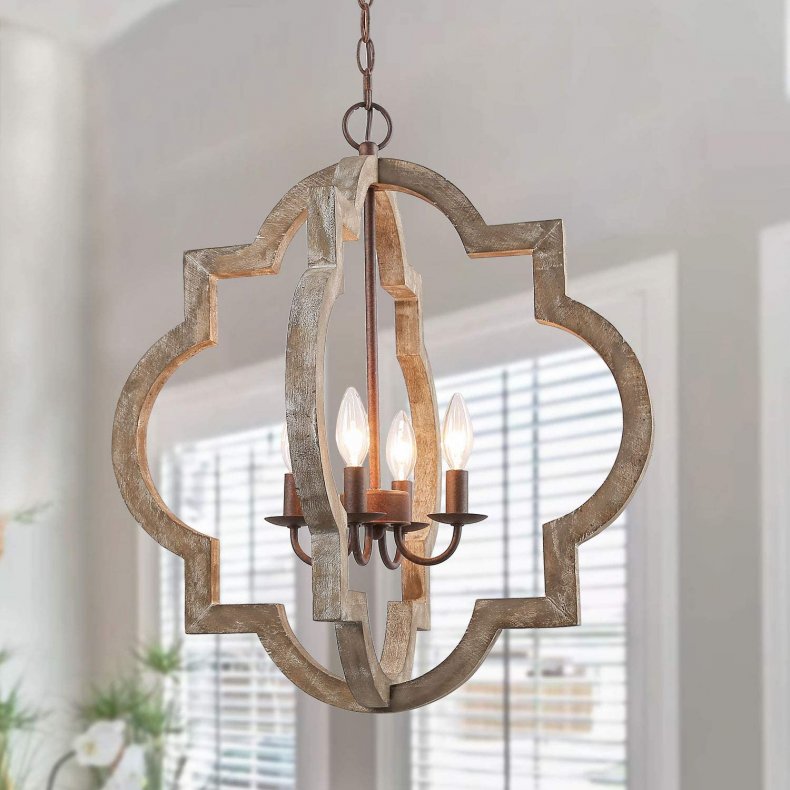 Lighting is an easy way to change the look of your living room quickly. The Large Farmhouse Chandelier by Log Barn has an openwork quatrefoil design, a handmade wooden frame and a rust-like metal finish. The lighting fixture measure 21.7 inches by 21.7 inches by 24.2 inches. Its chain is 59 inches. "Love the rich wood handmade look with rustic metal accents," wrote one Amazon reviewer. "The heritage bulbs complete it!"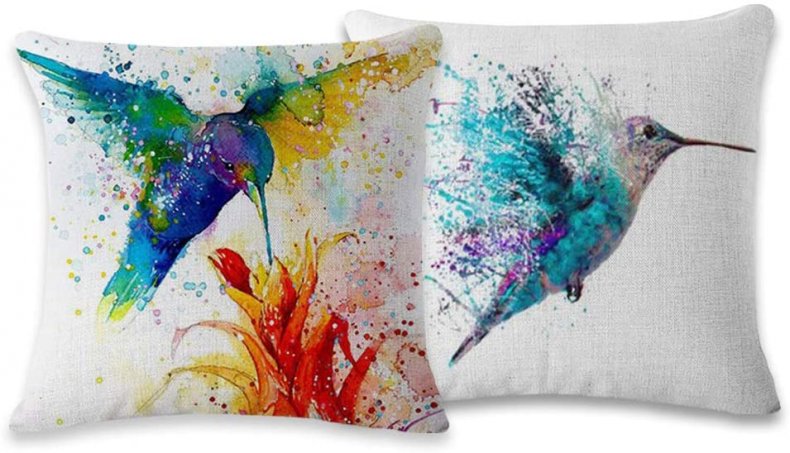 Sprucing up your living room can be done quickly and easily by adding pops of color. These Cotton Linen Throw Pillow Covers by Symuitrc are decorated with watercolor-like prints of bird images. Just pull these 18 inch by 18 inch covers over your current throw pillows and enjoy. "Glad I got those," said one Amazon reviewer. "They add such a beautiful pop to our family room. One of my favorite purchases from Amazon."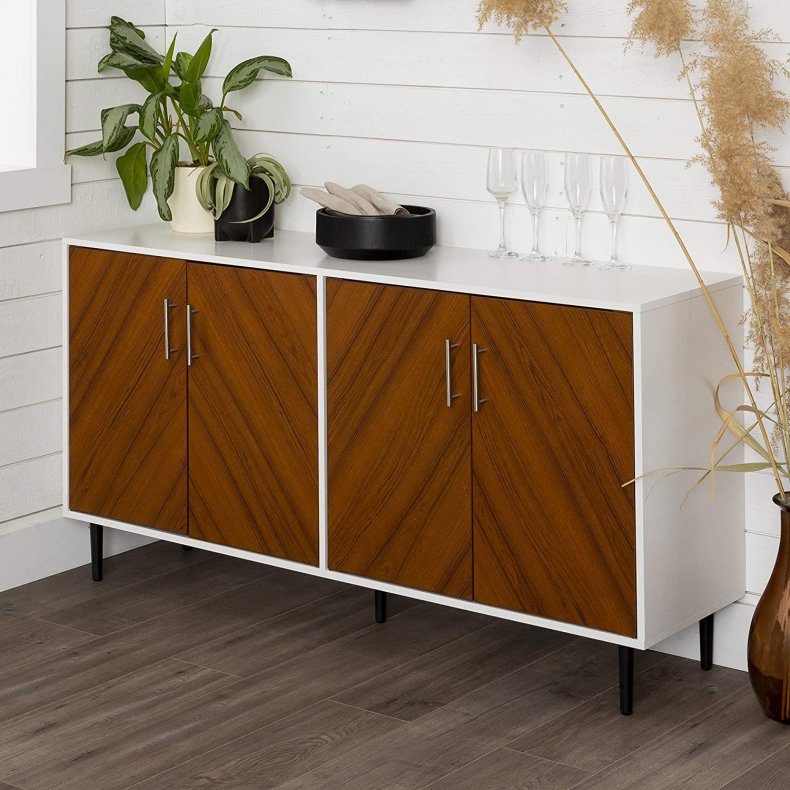 This Caye Modern Four-Door Bookmatch-Buffet by Walker Edison boosts your living room's appearance and versatility. Made of wood and iron, this cabinet can serve as a karaoke or movie-night center or as a buffet with storage. You can load it with food when entertaining or even with precious decor pieces. The top surface holds up to 100 pounds, and the two adjustable shelves inside can each support up to 50 pounds. There are even adjustable rubber feet to safeguard your floors. You can order this 95-pound buffet in four different color combinations. "This is the most beautiful cabinet! It's very solid and is easy to put together," wrote one Amazon reviewer. "To say I'm happy about this is an understatement!"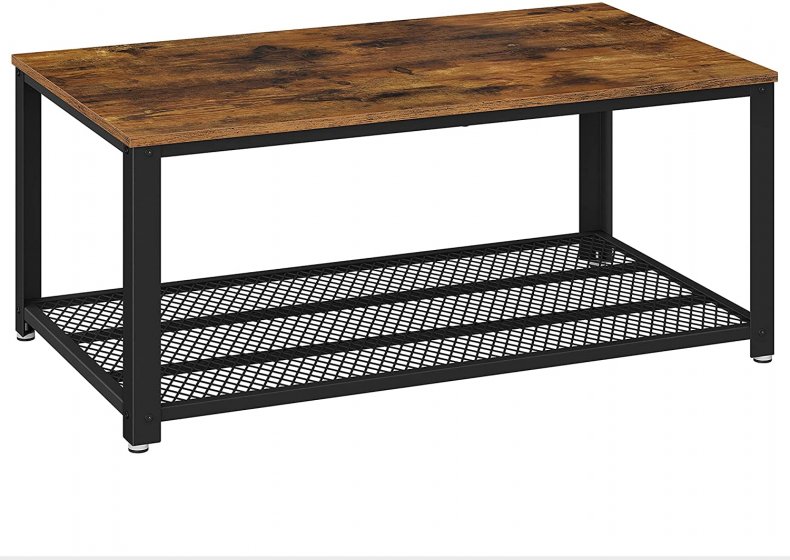 No matter your overall living room decor, you can count on this Industrial Coffee Table With Storage Shelf from Vasagle to boost its appeal. The table is created from particleboard and matte-black steel that gives it a trendy, rustic look. Use the shelf to store your magazines, books, popcorn or other odds and ends. The table measures 41.8 inches by 23.7 inches by 17.7 inches and weighs 30.1 pounds. The tabletop can hold up to 264 pounds, and the metal shelf holds up to 88 pounds. "This table is well made and easy to assemble at a great price point," wrote one Amazon reviewer. "Worth every penny. Our English bulldog really likes it, too!"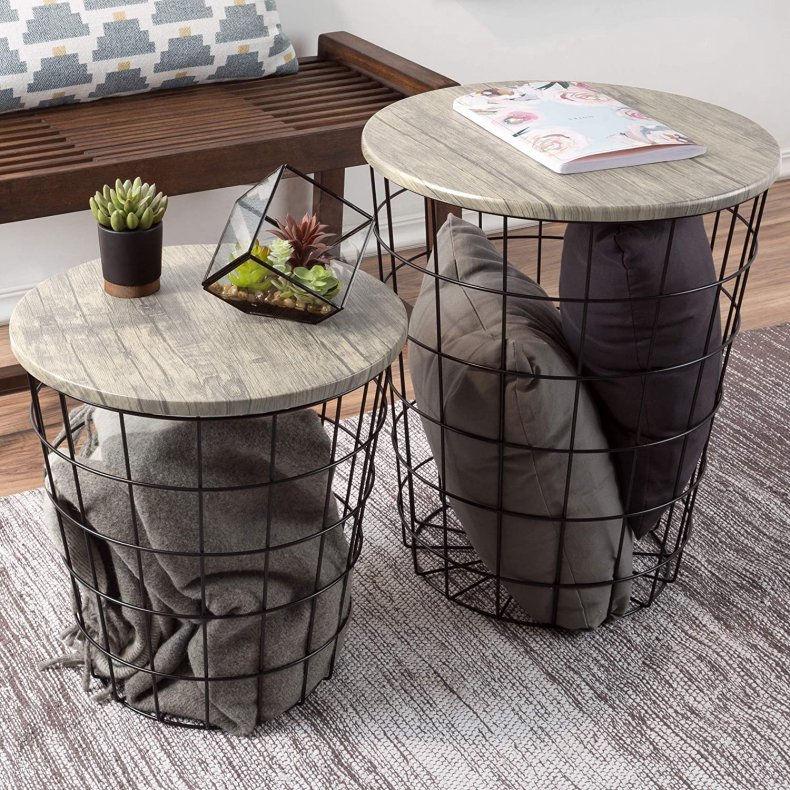 Those in need of a bit of extra storage––which is likely everyone––will especially appreciate this two-piece set of Nesting End Tables With Storage. These Lavish Home Collection tables are solidly built from manufactured wood and metal, so you can place your computer, books or other items on them without worry. The larger table measures 20-inches high by 17.5 inches in diameter (top), and the smaller size is 15.5 inches high and 15 inches in diameter (top). "I love these! They are so versatile," wrote one Amazon reviewer. "I can use them for a modern sleek look either with the base upside down, or can turn it right side up and put throw blankets and throw pillows in them!"
Buy the set of two on Amazon for $144.99.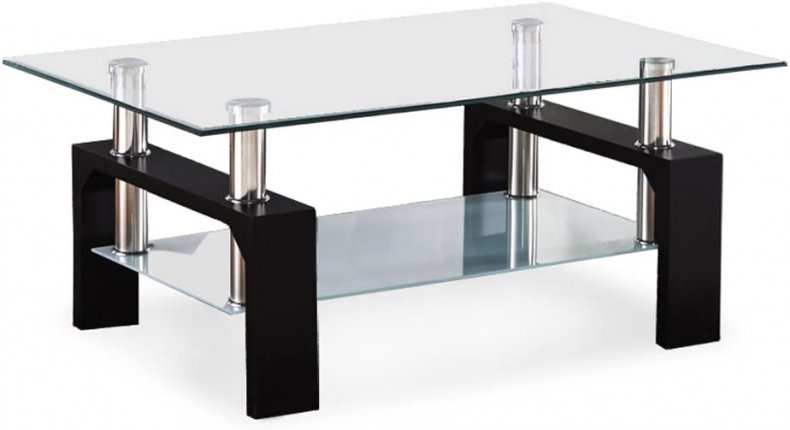 Mecor crafted this Modern Rectangle Glass Coffee Table with a sophisticated style that can serve as the focal point for your living room. It boasts an 8 mm scratch-free safety-glass top. The frosted glass bottom shelf is constructed of 6 mm thick glass, so it's ideal to hold remote controls, magazines and more. The table is constructed with medium-density fiberboard (MDF) and stainless steel bars. Glossy painted legs complete the look. The table measures 39.4 inches by 23.6 inches by 17.7 inches and weighs 42.53 pounds. "This coffee table is great! It's not big and not too small, perfect size," wrote one Amazon reviewer. "Looks great too!"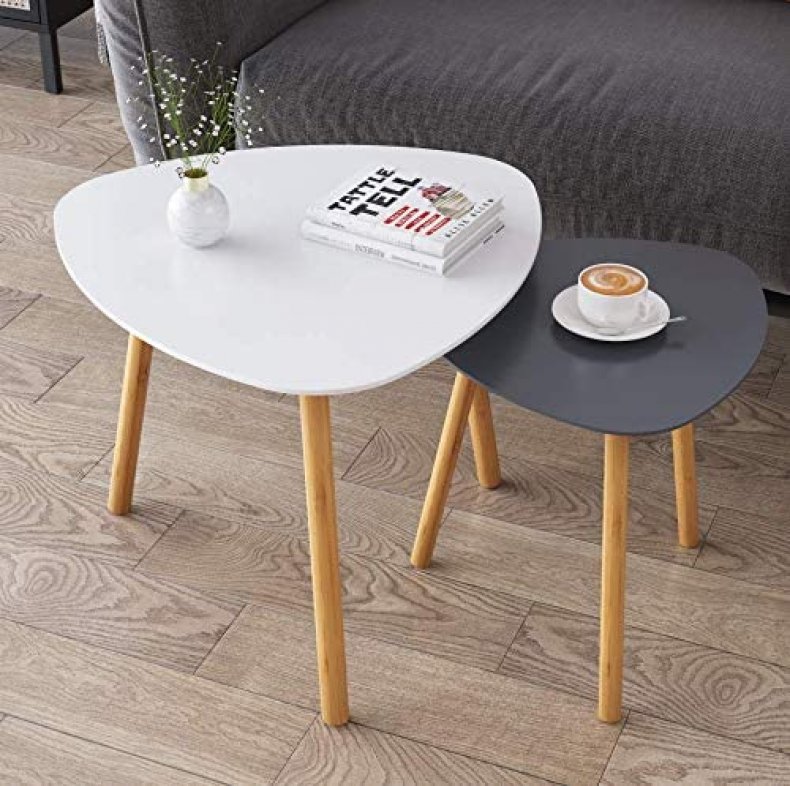 You can jazz up your living room and still stay environmentally friendly with this Bamboo Nesting Triangle End Table two-piece set by Bameos. The tabletops are created from engineered wood and the legs are made of bamboo. The large table measures 21.65 inches in diameter by 17.71 inches. The small table is 15.73 inches in diameter by 15.73 inches. The total weight of the tables is 14.33 pounds. "These are by far the most amazing tables I've purchased!" wrote one Amazon reviewer. "And they look so modern and chic in my living room—really lightens up the room and accentuates the details really nice."
Buy the set of two at Amazon for $49.99.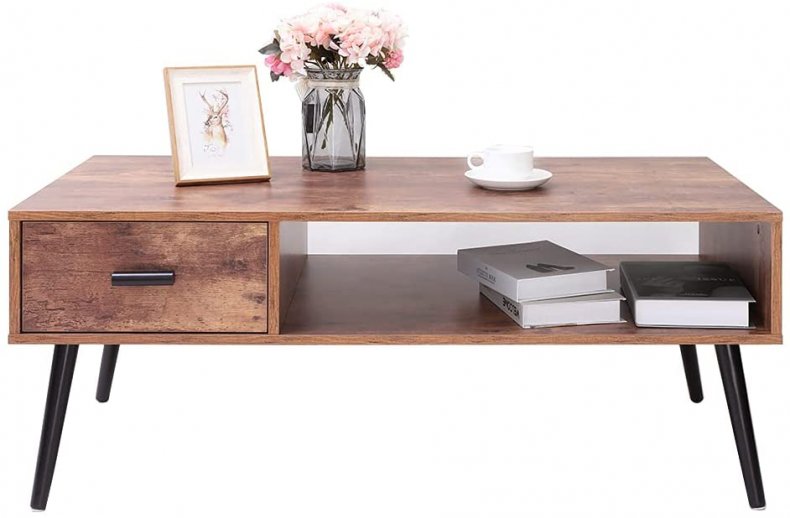 Mid-century furniture is a popular way to accent your living room. This Mid-Century Boho Coffee Table by Iwell has a large drawer where you can store your mobile phone or other precious items, and an open shelf to display your decor. It measures 43 inches by 21.7 inches by 17.7 inches and is made of particleboard with pine legs. "Absolutely beautiful! The colors are rich and match the photo description very well," wrote one Amazon reviewer. "I would highly suggest this table."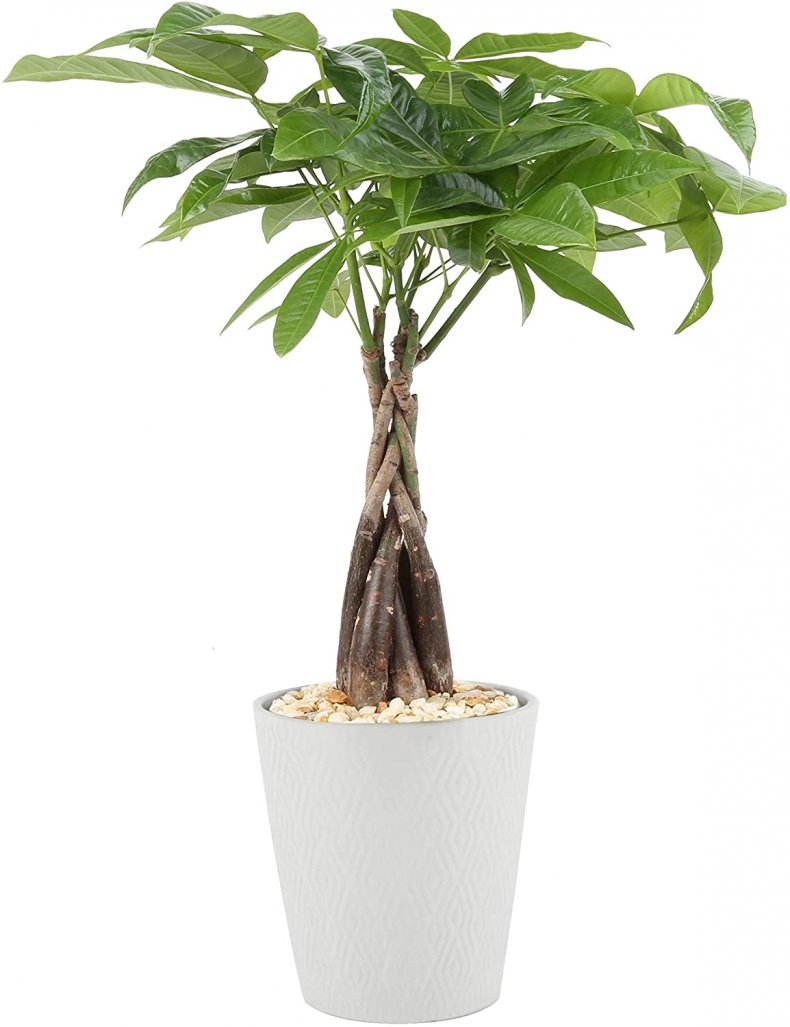 This easy-to-care-for Costa Farms Money Tree Pachira is an ideal way to bring nature to your living room. It comes in several sizes so you can choose the one that works for you. All it needs is indirect sunlight and weekly watering. "I love this Money Tree," wrote one Amazon reviewer. "The pot is very nice and the plant arrived packaged very well and healthy-looking.
Buy it on Amazon, from $50.99.

Newsweek may earn a commission from links on this page, but we only recommend products we back. We participate in various affiliate marketing programs, which means we may get paid commissions on editorially chosen products purchased through our links to retailer sites.