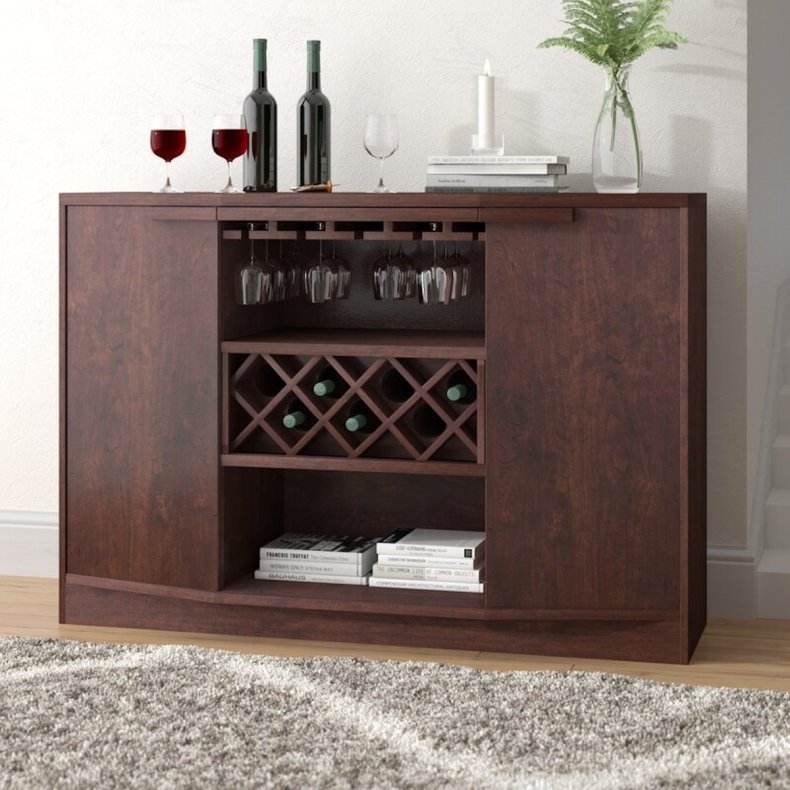 11 Bar and Wine Essentials to Take Your Hosting to the Next Level
So, a guy walks into a bar… No, but seriously, all jokes aside—every man cave deserves a proper bar. (You know, because long-neck, ice-cold beer never broke anyone's heart.) And frankly, at-home bars aren't just a countertop, some liquor and a set of stools anymore. Nowadays, peoples' man-cave bars are legit and maybe even just as good as the ole dive down the street. After all, they say to go where "everybody knows your name." That, of course, is at home.
11 Must-Have Bar and Wine Essentials
So whether you're a beer buff, wino or all-around, general libation-ist, these are our top picks for the 11 must-have bar and wine essentials for your at-home setup that take your next hosting gig to the next level. As always, the prices listed may fluctuate over time.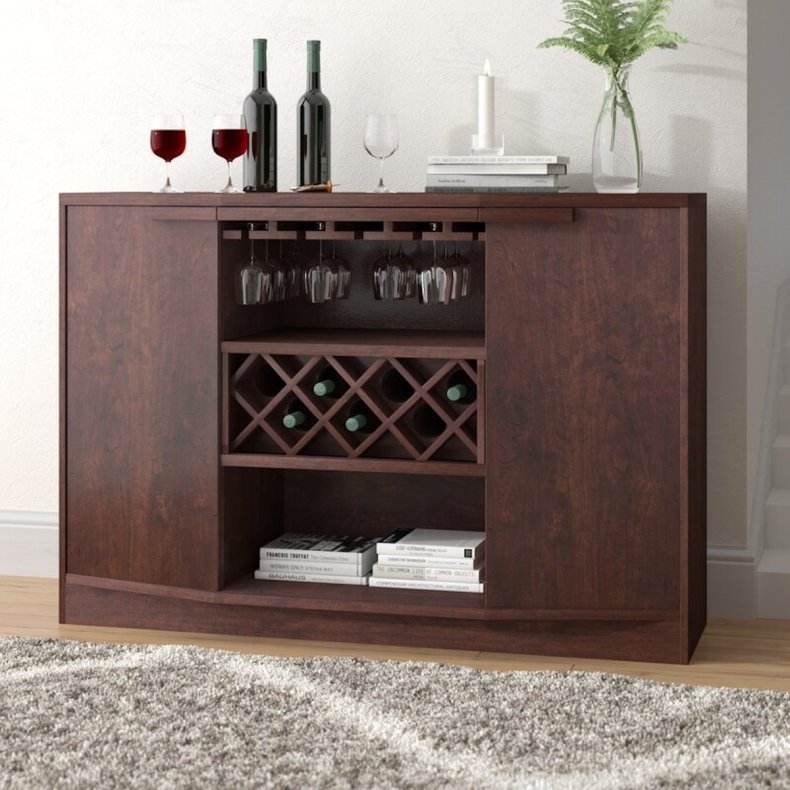 Your at-home bar will never look cheap or flimsy with the Wade Logan Isabell Bar with Wine Storage. Available in equally rich-looking vintage brown and black, this bar is made of composite wood. It features an elegant, professional-esque silhouette that will make any of your patrons feel right at home. The two side doors feature a magnetic latch for convenient opening and closing, and there's plenty of storage inside to accommodate all of your bar glasses, serving ware, plates, and, of course, the poison of your choice. It also features a built-in wine rack—with up to seven bottles of storage—and a stemware rack for glasses for all the vino connoisseurs.
A 4.6-star rating and more than 1,500 reviews make this a standout option at Wayfair.com, with one reviewer writing, "Gorgeous piece. We loved it so much. It adds more beauty to my dining section."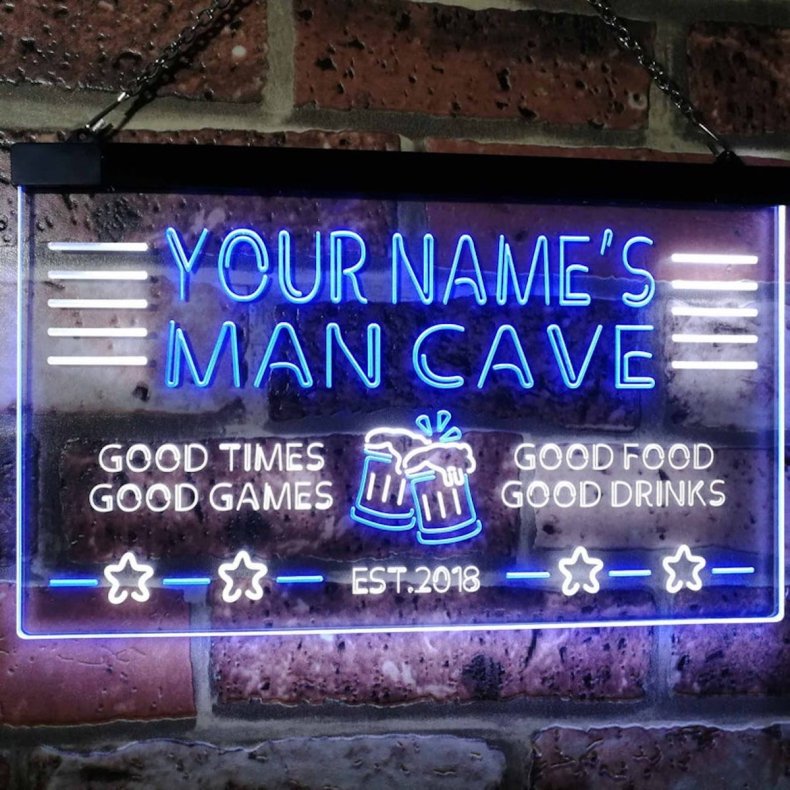 It's no MacLaren's—shout-out all our How I Met Your Mother fans—without some personalized neon. The Your Name's Man Cave Personalized Neon sign puts the finishing touch on the at-home bar that is truly yours. It's basically the equivalent of putting a stake in the ground and shouting, "I proclaim this Man Cave my territory!"
OK, not to get extreme on you, but it really is a great, thoughtful addition—especially if given as a gift.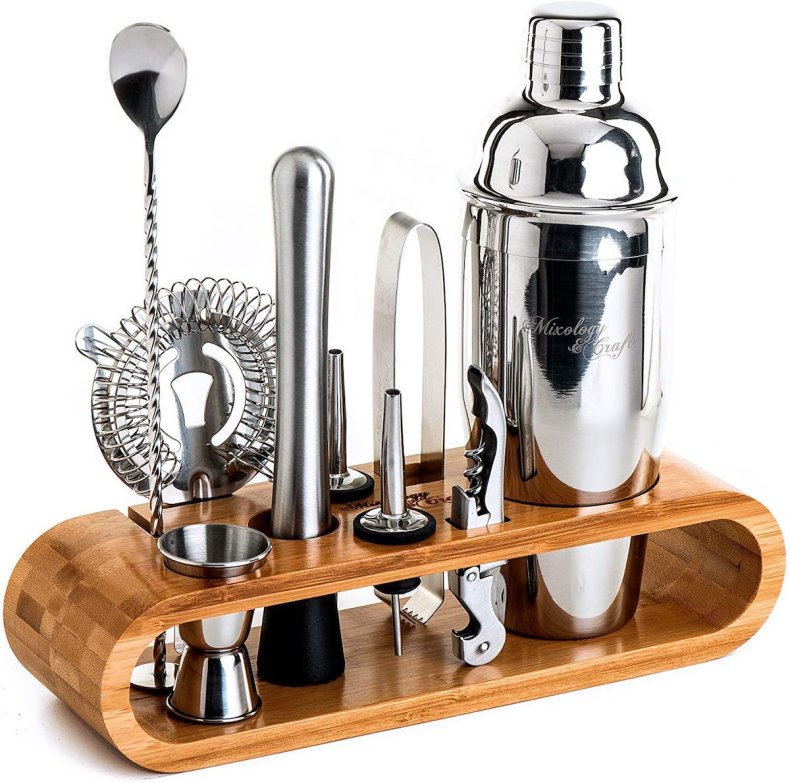 The Mixology 10-Piece Bar Tool Set is just about as close as a perfect star rating as you'll see on Amazon—a stunning 4.8! It also has nearly 5,000 reviews, with the most enthusiastic customers noting just how excellent the quality is.
This multi-faceted set is guaranteed to class up your bar with ice tongs, a spoon, jigger, muddler, two liquor pourers, a shaker, strainer, corkscrew and a high-class bamboo display.
One Amazon.com reviewer wrote, "This product was everything I expected and more! The beautiful set sits so lovely on my mini bar while taking up minimal space, which is perfect for that 'big-little' touch. The craftsmanship of this set has even been approved by friends who work in the bartending business as being high quality industry standard."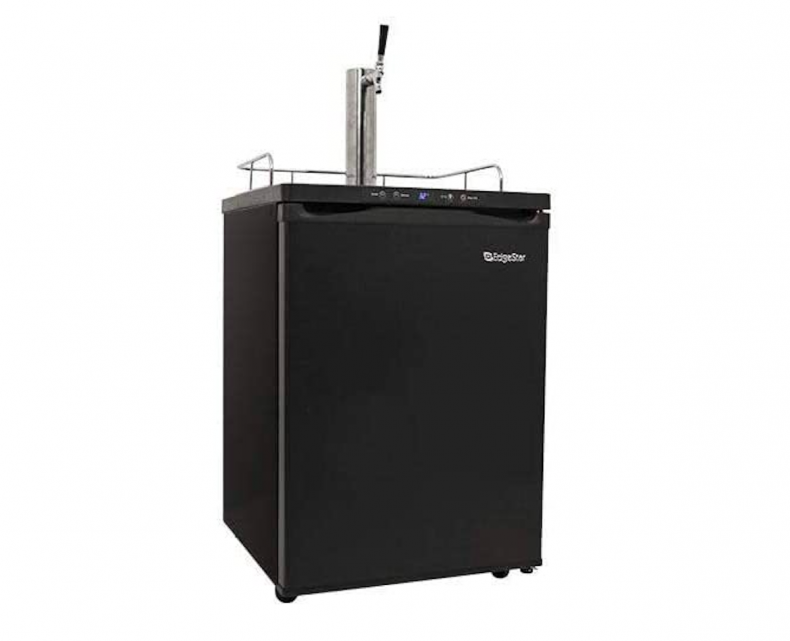 Kegerators—where sports, drinks and friends come together. If you're a newb in the great wide world of brews, any beer-drinker that's worth one's salt owns a kegerator. However, when seeking a highly coveted item amongst hopheads, you can't get just any old kegerator—that's a combination of 'keg' and 'refrigerator' that stores and dispenses kegs. It's the EdgeStar Full Size Kegerator with Digital Display from Amazon you want.
With a 24-inch digital display, an adjustable temperature that ranges from 32 to 50 °F, the capacity to fit half-barrel, slim quarter, corny and sixth barrel kegs and, of course, two-wire shelves for fridge use (when you're in between kegs), this kegerator is hardly the bottom of the barrel. In fact, it's top-shelf.
One Amazon.com reviewer wrote, "I absolutely love my kegerator. I am completely spoiled now and hate drinking beer from a can or even a bottle. Word to the wise. Go ahead and buy a cleaning kit as you will need it in a month or so."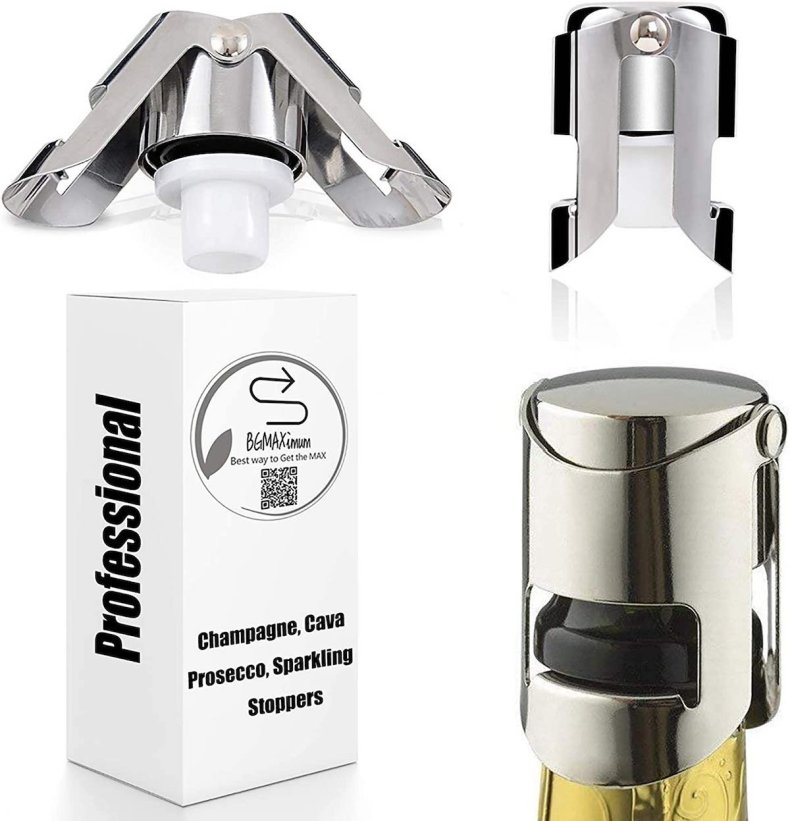 If you've ever had a quality bottle of bubbly go bad because you threw out the champagne cork and didn't drink it in its entirety, a) pour one out for the homie and b) this one's for you.
The Champagne Sealer Stopper makes for the ultimate bang for your buck because it's a must-have bar essential that saves unfinished Prosecco from a too-soon fate. With 4.5 stars and more than 2,500 reviews on Amazon.com, this teensy little gadget is a real hidden gem.
One Amazon.com reviewer wrote, "This product is absolutely outstanding. Very inexpensive, extremely easy to use it, makes a great gift idea… This little thing works great keeps a champagne fresh sparkly and bubbly I've had it up to a week later and it's been awesome."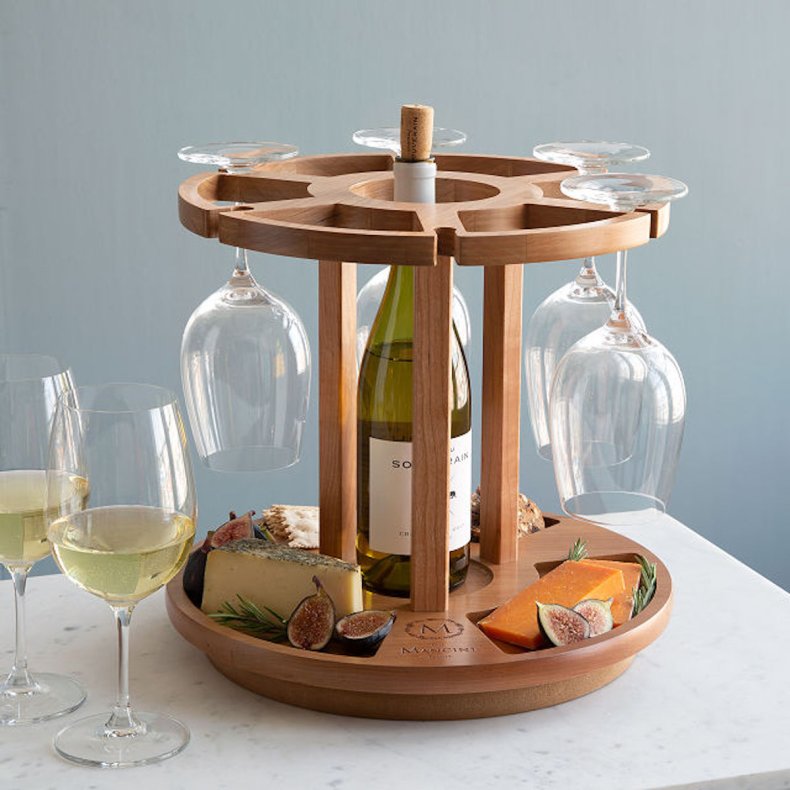 Can we just pause to appreciate the ingenuity for a second?! The Personalized Wine and Cheese Carousel is a real work of art. (Because we deserve an all-in-one server that gives us both our liquid grapes and our cheese all in lazy Susan-type fashion.)
Naturally, the personalization option brings this wine-server-slash-charcuterie-board up a notch in our book, but even beyond that sentimental part of it, it's just brilliant. You can display (and serve) your crackers, chocolates, cheese, and whatever else pairs well with your wine, all in one. It's the ultimate gift for the hostess with the mostess.
Buy at Uncommon Goods for $140.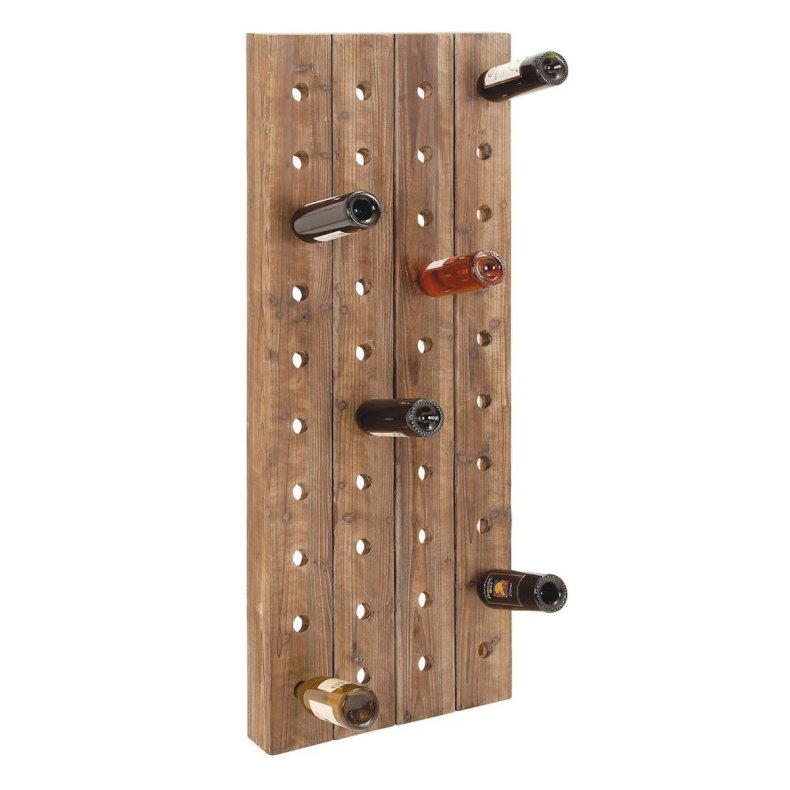 Not all wine racks have to sit on the floor (or be attached to a bar, for that matter). The Carbon Loft Graysen Wood Finish Pegboard Wine Rack takes a page out of one of the oldest tricks in the home decor book: Use your vertical space!
This pegboard-style wine rack—which can fit up to 40 bottles—hangs up on the wall to not only maximize your space but also highlight the real star of the show: the vino!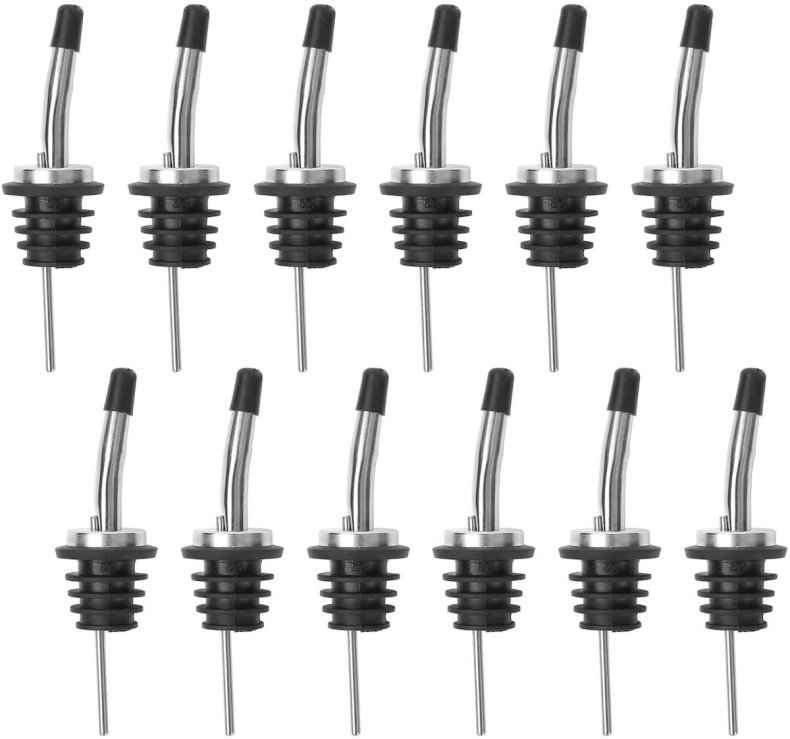 Now we're talking! Every barkeep who knows their way around a pub swears by these tapered spout liquid pourers, and Aozita 12-Pack Stainless Steel Classic Bottle Pourers are what the professionals use. Available in a 12-pack, these pourers have 4.7 stars and nearly 10,000 reviews.
One Amazon.com reviewer, an owner of a brewery, wrote, "They fit on liquor bottles as well as our Boston Round Growlers. They look sleek and expensive and worked really great! It's a nice smooth pour that doesn't really require the stop mechanism that other brands offer. Very easy to use and a snug fit. Would definitely buy them again."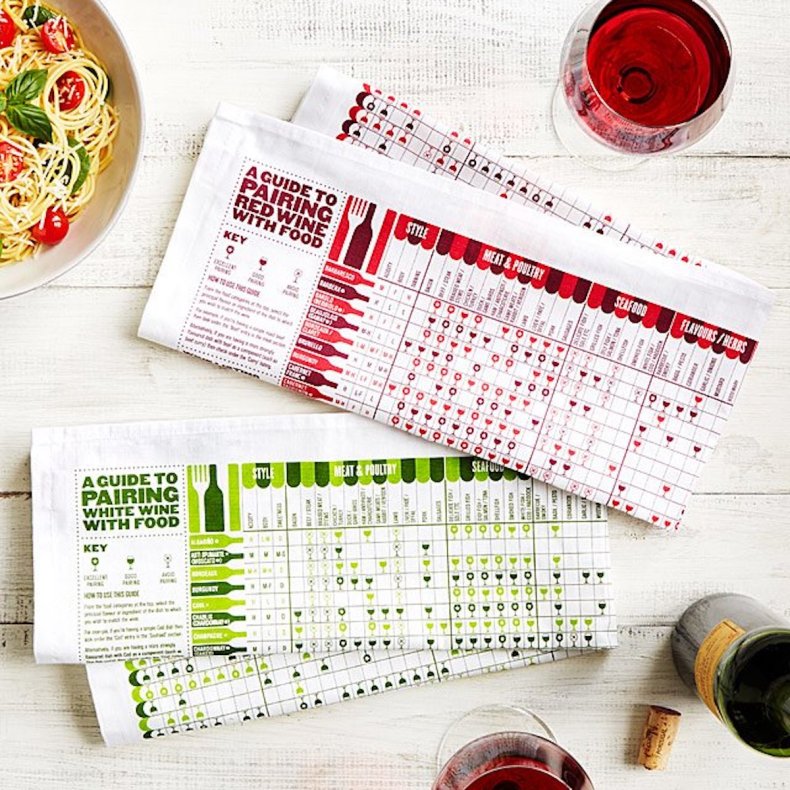 Okay, you like wine but can't tell the difference between what's silky or oaky. That's okay!
The Wine Pairing Towel Set from Uncommon Goods helps a girl (or guy) out by covering 68 of the most popular wines and the 56 different foods that pair well with each for a total of 3,808 potential pairings. Use this decorative towel set as the ultimate cheat sheet, and the guests you're hosting will never even know!
Buy at Uncommon Goods for $28.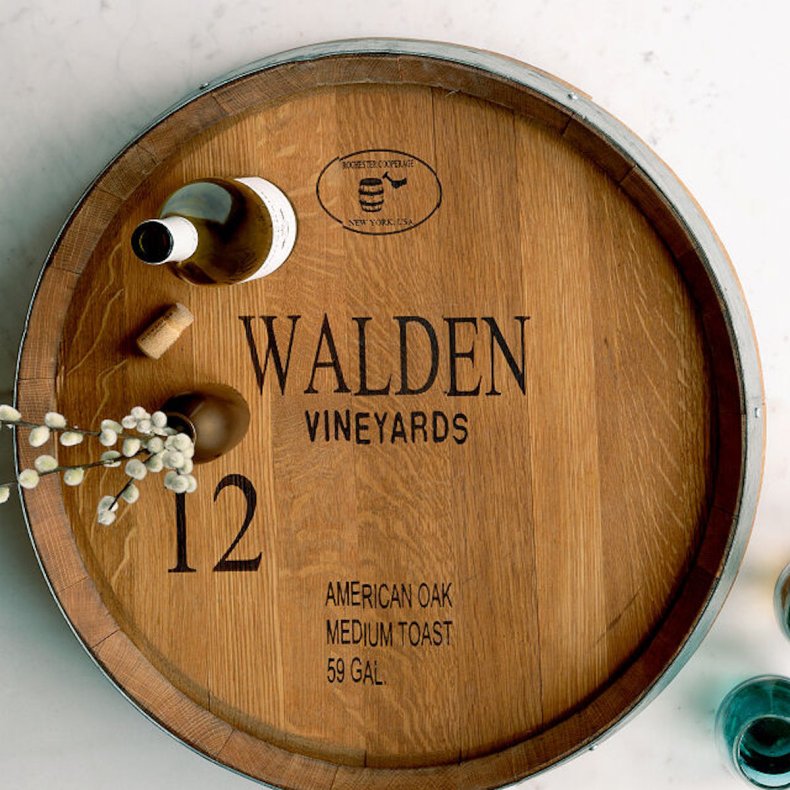 If you've ever wanted to live out the Parent Trap dreams of your own family vineyard a la Hallie Parker, the Personalized Wine Barrel Lazy Susan from Uncommon Goods is your chance. Made from recycled (or rather, repurposed wine barrels), this personal vintage item can be inscribed with an anniversary date, house number or lucky number, as well as your family surname.
Plus, the lazy Susan style makes it all the easier for guests and family members to use at the same time.
Buy at Uncommon Goods for $175.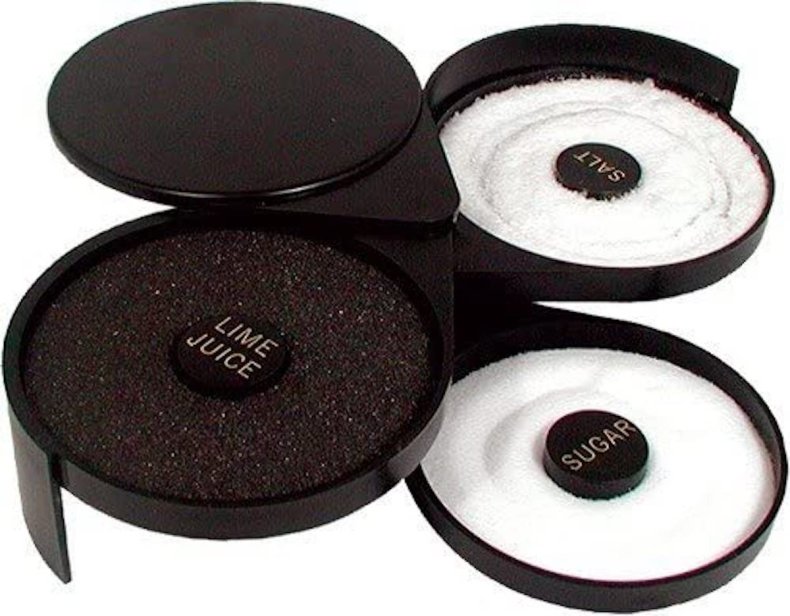 What's a good, fancy cocktail without a rimmed glass? The New Star Foodservice 3-Tier Bar Glass Rimmer—with an impressive 4.7-star rating and more than 4,200 reviews on Amazon.com—offers three labeled trays of different rim options (salt, lime juice and sugar). The separate trays prevent cross-contamination and, honestly, look like the real-deal thing a bartender would have.
One Amazon.com reviewer wrote, "My bartender friend explained to me about the size of the glasses used and how this accommodates multiple kinds. I only use the lime juice and salt sections. It's SOOO easy to use, and it folds up really easily. I use it frequently, it's definitely worth the counter space! High recommend!"
Newsweek may earn a commission from links on this page, but we only recommend products we back. We participate in various affiliate marketing programs, which means we may get paid commissions on editorially chosen products purchased through our links to retailer sites.